Blogger group question: Who would I want to be haunted by and who would I not want to be haunted by?
Answer: The introvert in me thinks, "Ehh….no one and obviously no one?" I'm not sure that's an acceptable answer so Miss Anti-Social is going to play along. But for the record, in case you had plans for the after life, I'm not interested.
Who would I want to be haunted by? How about Kevin Bacon? Yeah, Kevin Bacon.
Did you just pick a random person? No. Maybe. Okay yes. But he seems like a likable person and he could teach me the choreography of Footloose. I would also laugh at his Tremors hijinks. Can you imagine the company? "Why is your living room floor shaking?" And I would be all smug, "That's my ghost, Kevin Bacon. It's his Tremors schtick. Just make sure you stay on his good side. You don't want to know about his Stir of Echoes pranks."
Who would I not want to be haunted by? John Travolta's Hair Pieces.

They just kind of show up. Then, one day they're gone.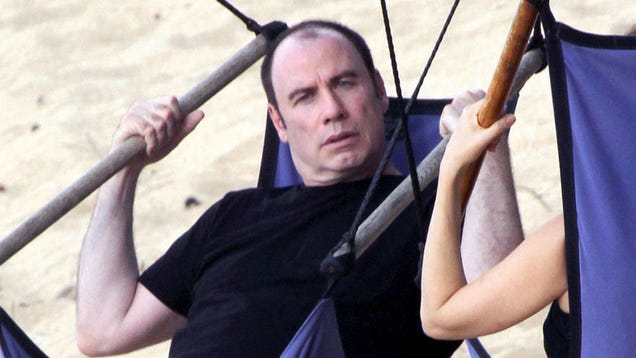 Next day their back.

Spooky, am I right? I don't think I handle being haunted by this level inconsistency. It frightens me and it should frighten you too.
If you can't sleep tonight because you are thinking about John Travolta hair pieces haunting you, I apologize, but who doesn't like a good ghost story?
HAPPY HALLOWEEN READERS!
Please visit the ladies: